Honoured Posthumously
Herb Carnegie is regularly considered the best Black hockey player to never play in the NHL.
Born in Toronto, Ontario on November 8, 1919, Herb grew up listening to 'Hockey Night in Canada,' dreaming of one day following his Toronto Maple Leafs heroes to the NHL. But as the son of Jamaican immigrants, the path was strewn with challenges for the young man.
After honing his skating skills on the frozen ponds of North York, Ontario with his brother Ossie, Herb went on to excel playing hockey with his school. There, he was spotted by Ed Wildey of the Toronto Young Rangers, a Junior 'A' franchise in the Ontario Hockey Association.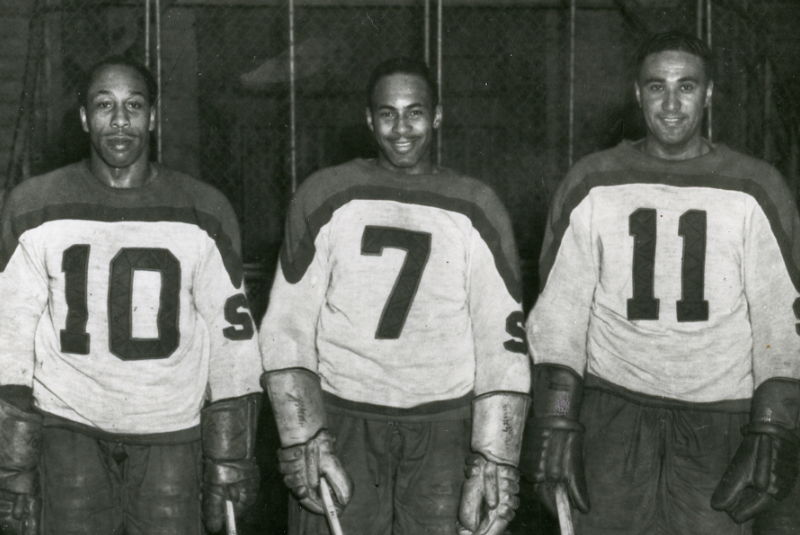 Young Rangers played their home games at Maple Leaf Gardens, and were given practice time at that arena every weekday morning at 6am. One morning in 1938, Carnegie's coach pulled him aside. "See that man up there?" he allegedly asked Carnegie, pointing to a man sitting in the stands watching the practice. "That's Conn Smythe, owner of the Maple Leafs. He says he'll give $10,000 to anyone who can turn Herb Carnegie white."
"The Toronto Maple Leafs were the team I rooted for as a boy," Carnegie later said. "To find out that was how the owner of the team I rooted for felt about me was shattering, just shattering."
'Swivel Hips' Carnegie went on to an outstanding career playing Senior hockey. While playing with the Buffalo-Ankerite in Timmins, Ontario, the team won the championship in 1941 and 1942. Though Herb played with his brother Ossie in 1940-41, it was in the 1941-42 season that the famous 'Black Line' or 'Black Aces' first played together. The first all-Black line in semi-pro hockey was comprised of Herb and Ossie Carnegie along with Manny McIntyre. Herb described their line in his memoir A Fly in a Pail of Milk, "I was both a scorer and playmaker, Ossie combined excellent positional play with a wicked shot and Manny took no guff from anyone." The trio played together for many seasons including with the Shawinigan Cataracts in 1944 and the Sherbrooke Randies/Saints in 1945-46, 1946-47 and 1948-49. Carnegie was a fixture at the top of league scoring and won the Quebec Senior Hockey League's MVP award in three consecutive seasons, 1947, 1948 and 1949.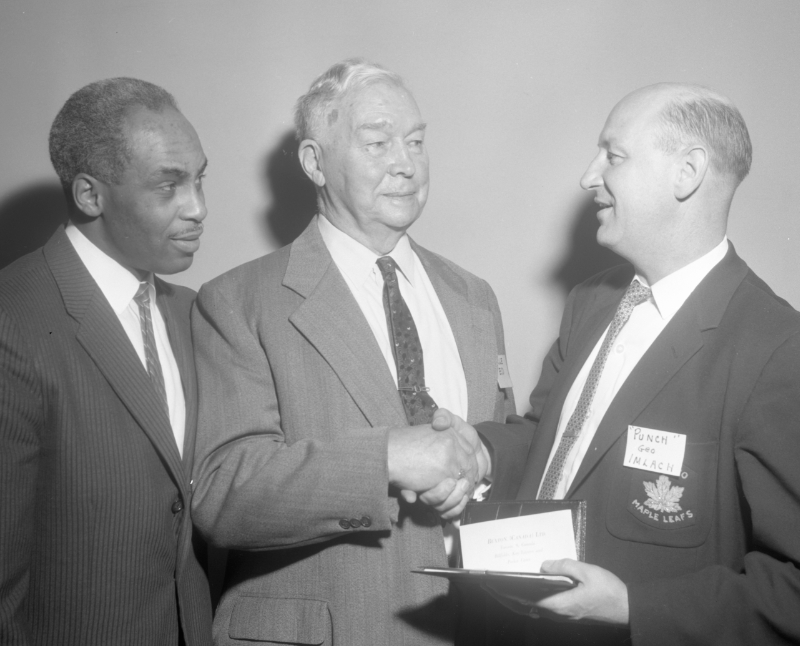 In 1948, Carnegie was invited to the training camp of the New York Rangers. Although most at the time admitted that he was among the best players at camp, the Rangers only offered him a contract to play in their minor league system. The opportunity would have paid Herb less money than he was earning in Quebec and he subsequently turned down the offer.
At the time, Carnegie said, "The most devastating thing to me was knowing that players on my team were getting the opportunity whose record wasn't as good as mine, which clearly showed discrimination and racism of the highest order."
He joined the Quebec Aces in 1949-50. It was with the Aces that Carnegie would mentor another great, Jean Beliveau, winning the championship together in 1952-53. After four seasons playing with the Quebec Aces, Herb Carnegie concluded his playing career with the Owen Sound Mercurys in 1953-54.
Following his retirement from playing, Carnegie enjoyed success in the investment industry. He founded Future Aces, one of Canada's first hockey schools in 1955. In 1956, he introduced the Future Aces Creed in an attempt to promote good Attitude, Cooperation, Example and Sportsmanship among young people. The Creed continues today within the Herbert H. Carnegie Future Aces Foundation which was established in 1987, providing educational programing and bursaries for post-secondary education, a legacy to Carnegie's ground-breaking work. The Carnegie Initiative was co-founded by his daughter Bernice Carnegie in 2021 as an independent oversight entity to continue Herb's work for inclusivity and diversity in sport. In the early 1990s, Herb and his program were featured in two special issues of 'The Amazing Spider-Man.' Herb was also an inventor, creating 'The Carnegie System' which was the first instructional hockey board used in the NHL, as well as creating games to teach sports. Carnegie was also an avid golfer, winning 23 championships and was the Ontario Senior Golf Champion in 1977 and 1978.
Herb Carnegie's hockey career was honoured through his induction into Canada's Sports Hall of Fame in 2001 and the Ontario Sports Hall of Fame in 2014 - overall he is a member of 14 Hall of Fames. Furthermore, he was named to the Order of Ontario and the Order of Canada, and awarded several medals. In 2005 he was named an honourary chief of police for York Regional Police and in 2006, Carnegie received an Honorary Doctor of Laws degree from York University. A public school in Toronto was named in his honour and the North York Centennial Centre was renamed the Herbert H. Carnegie Centennial Centre.
Herb Carnegie died on March 9, 2012 at the age of 92. He was posthumously inducted into the Hockey Hall of Fame in the Builder Category in 2022.