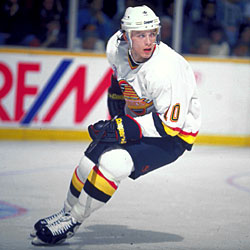 Bure began his NHL career with the Vancouver Canucks in 1991.

He was dubbed 'The Russian Rocket,' and his blazing speed and goal-scoring prowess made Pavel Bure a star in both the National Hockey League and in international play.

Pavel Vladimirovich Bure was born March 31, 1971 in Moscow, the son of Tatiana Gvovana and Vladimir Bure. Pavel's father competed for the Soviet Union in swimming at the Olympic Games in 1968, 1972 and 1976, winning four medals. Pavel's grandfather also competed in the Olympics as a goalkeeper on the Soviet Union's water polo team.

While his father had designs on Pavel following his footsteps and becoming a championship swimmer, the boy had other ideas that revolved around playing professional hockey. Six-year-old Pavel was enrolled in a hockey school sponsored by CSKA Moscow, despite never having played hockey on ice.

Pavel was a diligent student and by the age of 11, was named the best forward in his league. In July 1982, 12-year-old Pavel was chosen to appear in a television special with Wayne Gretzky and Vladislav Tretiak. Two years later, he joined the Central Red Army's junior squad. The Soviet national midget team, which included Bure, toured Canada in 1986.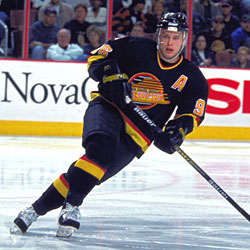 With the Canucks, Bure became just the eighth player in NHL history to record back-to-back 60-goal campaigns.

His skills abundantly evident, Bure joined the Central Red Army team in 1987 at just 16 years of age. He was invited to the parent club's training camp for the 1987-88 season and although he was deemed too young to join full-time, Pavel was a spare, playing a handful of games when the team briefly lost several players to the Canada Cup tournament in September 1987. He joined the club full-time in 1988-89, setting a Soviet League rookie record by scoring 17 goals and was named the league's rookie of the year. That season, with a roster that included Bure, Sergei Fedorov, Slava Fetisov, Igor Larionov, Sergei Makarov and Alexander Mogilny, CSKA Moscow collected its thirteenth consecutive Soviet championship and twelfth consecutive IIHF European Cup.

In his third and final season with the Red Army, Bure tied Valeri Kamensky for the team lead in scoring, both collecting 46 points. Pavel's 35 goals was second best in the league.

While starring in his homeland, Pavel had been selected by the Vancouver Canucks in the sixth round (113th overall) of the 1989 NHL Entry Draft. The selection had caused controversy as the Canucks had seemingly chosen Pavel a year before he was eligible. As he was just 18, he was available to be chosen in the first three rounds of the draft, but in order to be selected any later, he would had to have played in at least two seasons (with a minimum of 11 games per season) for his elite-level European club, the Central Red Army. Vancouver's head scout, Mike Penny, had discovered that the prodigy had played in additional exhibition and international games, which made him eligible to be a late-round draft choice a year earlier than expected.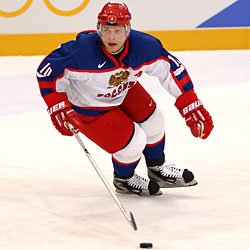 Bure helped the Russian club win the bronze medal at the 2002 Olympic Winter Games
held in Salt Lake City, Utah.

Following his draft, Soviet authorities denied the Canucks contact with Pavel. It wasn't until September 1991 that Pavel left Moscow for North America, joined by his father and brother Valeri. The Canucks began negotiating a contract with Bure, but before one could be finalized, the issue of his existing deal with the Central Red Army had to be settled. Vancouver's management met with officials from the Soviet Ice Hockey Federation in October of that year, negotiating a settlement. The Canucks offered $200,000, with Pavel astonishingly offering an additional $50,000. The Russian officials accepted the $250,000 settlement (the Canucks paid the full $250,000). Pavel subsequently signed a four-year contract worth a reported $2.7 million, making the rookie the second highest-paid player on the Canucks, behind captain Trevor Linden.

Bure's NHL debut occurred on November 5, 1991 in a 3-3 tie against the Winnipeg Jets. He was sensational, and despite being held scoreless, his dizzying puckhandling talent and superb speed made him an instant fan favourite. That season, Pavel scored 34 goals and 60 points in 65 games, and was named the NHL's recipient of the Calder Trophy as the rookie of the year. That award, along with coach Pat Quinn's Jack Adams Award as the league's best coach, marked the first major individual awards given to any Canuck in franchise history.

In 1992-93, Bure collected the first of two consecutive 60-goal seasons, establishing a franchise record for goals in a season (Tony Tanti had set the previous mark with 44). Pavel finished the season with 110 points, and became the first Canuck named to the NHL First All-Star Team.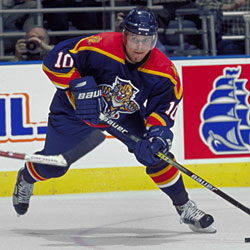 In his first full season as a Florida Panther, Bure led the NHL in goal-scoring with 58 to capture his first of two consecutive Maurice Richard Trophy wins.

Bure led the league in scoring in 1993-94, and with his second straight season with 60 goals, became just the eighth player in NHL history to record back-to-back 60-goal campaigns. He finished the season with 107 points. That spring, Bure led Vancouver to the Stanley Cup final. It took seven games, but the New York Rangers eventually edged the Canucks for Lord Stanley's Cup. Bure finished second in playoff scoring with 16 goals and 31 points in 24 games.

During the 1994-95 NHL lock-out, Pavel returned to Europe to play hockey, but when the impasse was resolved, he returned to Vancouver and picked up 43 points in the 44-game season. During that spring, he set franchise records for most goals and most points in a single series with 7 and 12 respectively during a seven-game series win over the St. Louis Blues. The Canucks, however, were swept by Chicago in the second round of that season's playoffs.

Looking for a change in fortune, Bure changed from his familiar sweater number 10 to number 96 in 1995-96, commemorating the date he arrived in North America from Moscow (9th month, 6th day of 1991). In spite of Pavel injuring his knee during the season, Vancouver made the playoffs but was eliminated in the first round.

Bure missed several games to injury again in 1996-97, and without their sniper in the lineup, Vancouver missed the playoffs for the first time since Bure joined the team. During that summer, the Canucks signed Mark Messier as a free agent, and hopes were high that the two would combine as part of a potent line. Pavel returned to his number 10 after two injury-plagued seasons. "I'm not superstitious," he said, "but the last two seasons have been bad memories." Although the team missed the playoffs for a second straight spring, Bure's offence rebounded and he enjoyed the third 50-goal season of his career and finished with 90 points, good for third in NHL scoring that season.

Following the 1997-98 season, Bure demanded a trade, despite having a year left on his contract. He did not report to the Canucks' training camp, instead, returning to Moscow where he practised with the Central Red Army team. During this time, Pavel was offered a $4 million US, tax-free salary to play in Belarus, but Bure declined the offer.

After holding out, Pavel was traded to the Florida Panthers on January 17, 1999. Moving to Miami with Bure were Brad Ference, Bret Hedican and a third-round draft pick in the 2000 NHL Entry Draft, while Mike Brown, Dave Gagner, Ed Jovanovski, Kevin Weekes and Florida's first-round selection in the 2000 draft.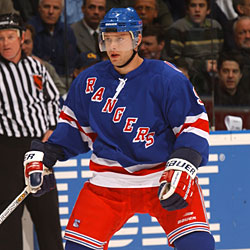 Bure finished his career with two injury-plagued seasons with the New York Rangers.

Injuries plagued Pavel in Florida, too, and he played just 11 games in 1998-99, although he managed to score 13 goals and 3 assists. In 1999-2000, his first full season as a Panther, Bure led the NHL in goal-scoring with 58 to capture his first of two consecutive Maurice Richard Trophy wins. It marked the second time Pavel had led the league in scoring, but his first Rocket Richard Trophy, as the award had just been introduced the previous season. Combined with 36 assists, his 94 points was just two behind the league's scoring leader, Jaromir Jagr. Bure's production helped Florida to a fifth-place finish in the Eastern Conference, their first playoff berth in three seasons, although they were swept in the opening round of the post-season. Following that season, Bure was named as a nominee for the Hart Trophy as the most valuable player in the NHL, although the award went to Jagr. Pavel was named to the NHL's Second All-Star Team for the first time.

Battling injuries, Bure was still honoured with selection to play in the All-Star Game in 2000-01. His hattrick led the World team to a 9-4 win over North America, and he was named the game's most valuable player. That season, Bure repeated as scoring champion with 59 goals, reaching the 50-goal plateau for the fifth and final time in his career. The Panthers missed the playoffs again, however, Pavel was named to the NHL's Second All-Star Team for the second straight season.

Prior to the 2001-02 season, Florida acquired Valeri Bure from the Calgary Flames, uniting the brothers on the same team. But Pavel suffered a number of injuries through the season and appeared in just 56 games. Yet, he still led the team in scoring for the third straight season, collecting 49 points in a partial season. At the trading deadline, he was shipped to the New York Rangers with a second-round draft pick for Filip Noval, Igor Ulanov and New York's first and second round selections in the 2002 NHL Entry Draft and a fourth-round pick in 2003. Between the two teams, he finished the season with 34 goals and 69 points.

Bure's injury woes continued, and he appear in just 39 games in 2002-03, managing 19 goals and 30 points. Due to the lingering effects of injuries, Pavel did not play at all in 2003-04, and with the lock-out of 2004-05, he missed two entire seasons. After the NHL resumed play in 2005-06, Pavel Bure announced his retirement at a media conference in Moscow on November 1, 2005.

Bure's NHL career consisted of 702 regular season games in which he scored 437 goals and 342 assists for 779 points. His abbreviated career also included 70 points (an equal number of goals and assists) scored in 64 playoff contests.




CAREER STATISTICS

REGULAR SEASON
PLAYOFFS
Season
Club
League
GP
G
A
TP
PIM
+/-
GP
G
A
TP
PIM
1987-88
CSKA Moscow
USSR
5
1
1
2
0
1987-88
Soviet Union
EJC-A
6
10
0
10
2
1988-89
CSKA Moscow
USSR
32
17
9
26
8
1988-89
Soviet Union
WJC-A
7
8
6
14
4
1988-89
USSR
EJC-A
6
5
6
11
4
1989-90
CSKA Moscow
Fr-Tour
1
0
0
0
0
1989-90
CSKA Moscow
USSR
46
14
10
24
20
1989-90
Soviet Union
WJC-A
7
7
3
10
10
1989-90
Soviet Union
WEC-A
10
2
4
6
10
1990-91
CSKA Moscow
USSR
44
35
11
46
24
1990-91
CSKA Moscow
Fr-Tour
1
1
0
1
2
1990-91
Soviet Union
WJC-A
7
12
3
15
31
1990-91
Soviet Union
WEC-A
10
3
8
11
2
1991-92
Vancouver Canucks
NHL
65
34
26
60
30
0
13
6
4
10
14
1992-93
Vancouver Canucks
NHL
83
60
50
110
69
+35
12
5
7
12
8
1993-94
Vancouver Canucks
NHL
76
60
47
107
86
+1
24
16
15
31
40
1994-95
EV Landshut
Germany
1
3
0
3
2
1994-95
Spartak Moscow
CIS
1
2
0
2
2
1994-95
Vancouver Canucks
NHL
44
20
23
43
47
-8
11
7
6
13
10
1995-96
Vancouver Canucks
NHL
15
6
7
13
8
-2
1996-97
Vancouver Canucks
NHL
63
23
32
55
40
-14
1997-98
Vancouver Canucks
NHL
82
51
39
90
48
+5
1997-98
Russia
Olympics
6
9
0
9
2
1998-99
Florida Panthers
NHL
11
13
3
16
4
+3
1999-00
Florida Panthers
NHL
74
58
36
94
16
+25
4
1
3
4
2
1999-00
Russia
WC-A
6
4
1
5
10
2000-01
Florida Panthers
NHL
82
59
33
92
58
-2
2001-02
Florida Panthers
NHL
56
22
27
49
56
-14
2001-02
Russia
Olympics
6
2
1
3
8
2001-02
New York Rangers
NHL
12
12
8
20
6
+9
2002-03
New York Rangers
NHL
39
19
11
30
16
+4
NHL Totals
702
437
342
779
484
64
35
35
70
74