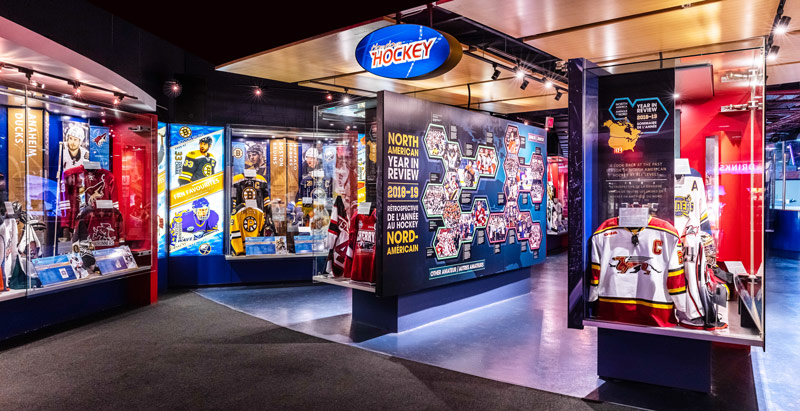 Hometown Hockey is a salute to North American hockey locales, spotlighting the various levels of hockey from grass roots to professional, both current and defunct, as well as extensive coverage on women's and disabled hockey.
The expansive area also features "Franchise Alley", which consists of a series of showcases highlighting each NHL franchise including their minor league affiliations.
At the epicentre of the zone exists the Hometown Hockey theatrical multimedia exhibit where visitors can call up virtually any North American city and explore the town's noted players, trophies and championships.
Also housed in the Hometown Hockey zone is the "Changing Face of Hockey - Diversity in Our Game" display. The permanent showcase brings to light the challenges faced by marginalized people across North America in their struggle for social equality and acceptance in the great game of hockey. Highlighted within the display are four significant issues that helped shape today's game - Ethnicity in Hockey, Marginalized People in Top Level Pro Hockey, Women in Hockey and Disabled Hockey. Discover the stories of the Colored Hockey League, the Indigenous and Black hockey players from the past and present, the pioneers and evolution of women's hockey, making hockey accessible and more.